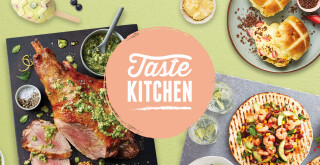 Cook up a tasty Easter
Looking for some tips on how to cook the most mouth-watering lamb, sensational sides or a show-stopping Easter cake? How about some amazing Hot Cross Bun fillings and recipes you can bake with the kids? Watch our quick and easy guides below and don't forget to visit our YouTube channel for more Easter inspiration.
FAMILY BAKING & HOT CROSS BUNS
How to cook the perfect Easter lamb
Juicy, moist, tender and bursting with freshness. With our helpful 'how to' tips you'll be able to cook your beautiful British lamb joint to perfection.
Let's bake!
Everyone loves getting involved in a bake off at Easter. So, we've come up with some seasonal inspiration, whether you fancy a scrumptious Easter Egg Cheesecake, some cute Carrot Patch Cupcakes or a Hot Cross Bun Trifle.
Must-try alternative Easter recipes
Don't fancy lamb? How about a delicious Andalusian Baked Cod or our tasty Tortillas with Prawn, Chilli & Lime? We've got lots of appetizing alternatives this Easter.
Wow-worthy Easter recipes
Why not make an amazing Easter Show-Stopper? Like our Simply Scrumptious Courgette Cake or a sensational Ombre Easter Cake.